In honor of this weeks Precious Pet feature, my favorite picks are with our adorable pocket pets in mind.
Not only is the picture just adorable, I'm loving this pink pokadot pouch.
Hanging Small Animal Pouch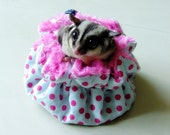 These are adorable little pineapple chews.
Loofah Pineapple Chew
I love this cute little cuddle bed with whales on it.
Cuddle Bed
My hedgehog loves these tunnels.
Play Tunnel
What a great way to bond with your little pet.
Bonding Bag