Please take pet ownership seriously, and honestly share what you know about your pet. I always say, "if everyone would realize that pets are a real, living, responsibilities and not an item that is owned or disposable, then maybe more animals will have better lives."

I have a sincere love for animals. I love to learn and talk about them. Since I have come to the end of being able to feature my wonderful pets, I am moving on to featuring your precious pets. So grab yourself a cup of coffee or tea, and maybe a tissue, sit back, get to know and enjoy these wonderful blessings we call pets but are truly a part of our families.

This week I am featuring an adorable Cairn Terrier named Newton N. Bierach, or Newt for short. Newt is 6 years old.
Newt's owner is Leslie of Parkside Design Studio. Newt was given to her by a breeder. The breeder was unable to sell or re-home him due to a septal defect. This is a heart defect which causes the heart to work harder than normal. Depending on where the defect is, the symptoms vary, but most include; difficulty breathing, exercise intolerance, coughing, increased heart rate. Most heart defects are congenital (their born with it).
PetMd
provides the most health information for our pets that I have ever seen. Smiles and blessings to you Leslie for opening your home and heart to this little guy in his time of need.
Leslie says Newt is the "most loyal and loving dog." This is characteristic of his breed. Being a terrier, he loves to bark at everything, such as "thunder, nail guns, flying geese, and the sound of the mailman's keys." Cairn terriers love to protect their homes and family, especially from that vicious mailman. Newt loves playing in the yard too. Helping with the gardening by digging holes for the plants, is one of his favorite hobbies. He also likes to spend his time with his family with walks and trips in the car.

Newt has lots of personality. Leslie says he will steal your chair if you get up. I wonder what he's thinking when he curls up in your former spot…"Thanks for warming my spot" or "You snooze, you lose." He probably curls up and looks up with those big, laughing, brown eyes as if saying, "What? I was here first." After stealing your seat, Newt begins dreaming of all of those pesky squirrels he will torment on the morrow.
Grinch Neck Tie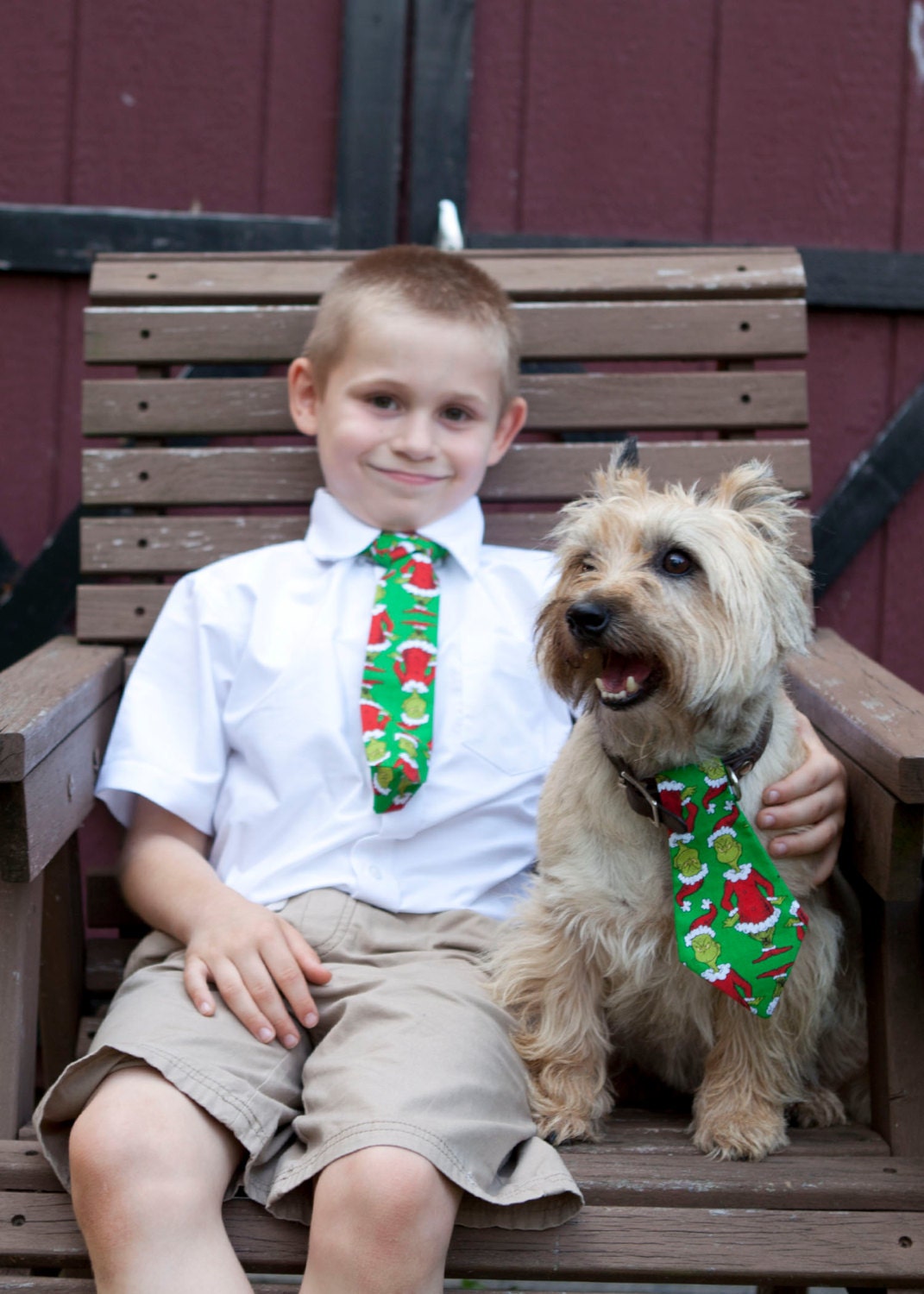 Leslie say, "Newt inspires me and my art. He is happy all the time despite of his heart condition." Wanting something different for her dogs, Leslie started making her own dog collars and leashes. She was taught the basic concepts of sewing and designing by an older neighbor, however, she later attended Fashion Institute of Tech in NYC. Having many years of custom sewing under her belt, she prefers to make dog and cat items for her Etsy store, Parkside Design Studio. Leslie

also sells her items at craft fairs, consignment shops, and dog events in the Harrisburg and Baltimore areas.
Candy Corn Leash & Collar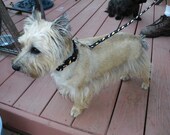 Follow her on Facebook at Parkside Design Studio.
More of her adorable creations:
Cat Place Mat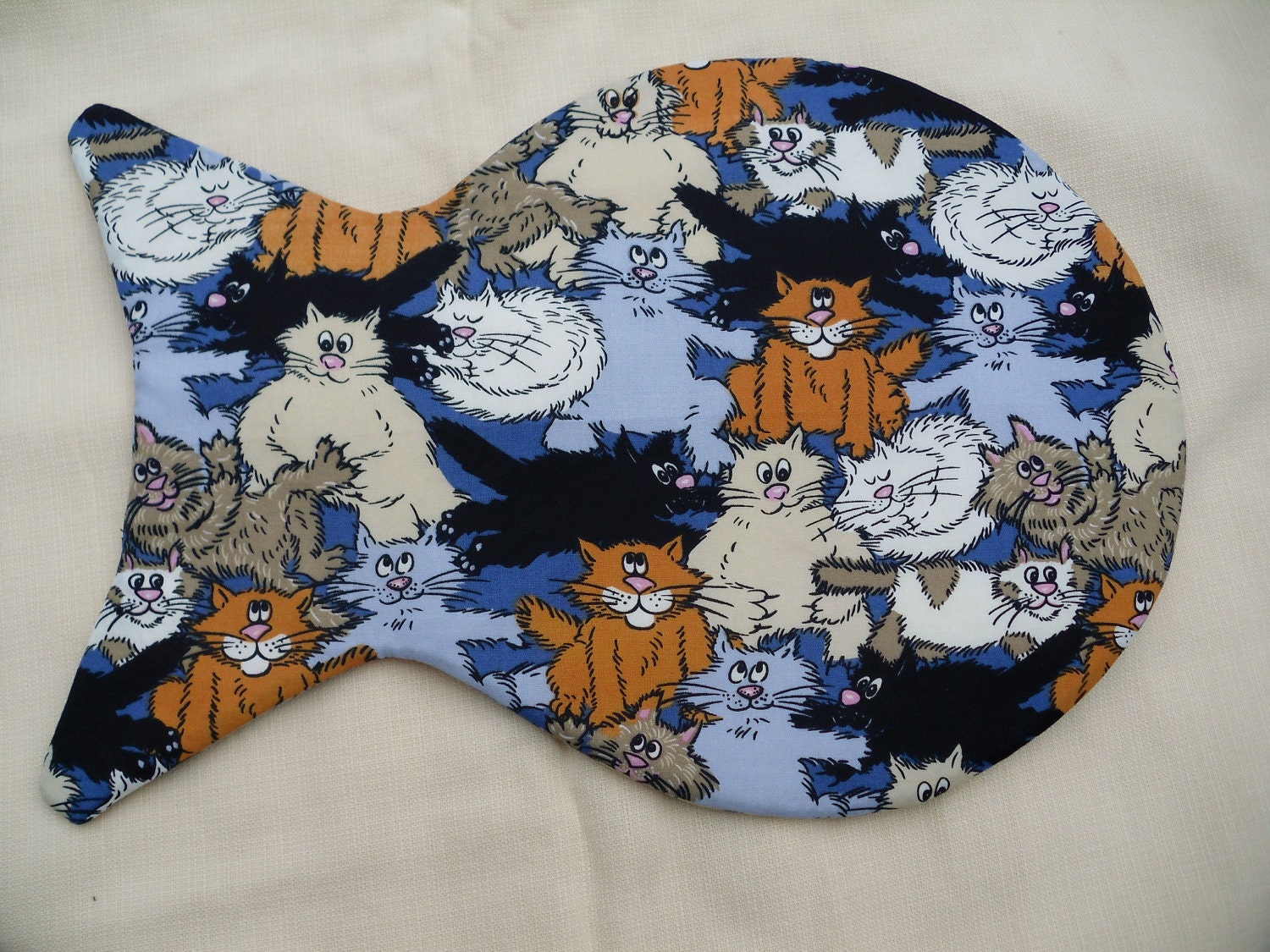 Candy Corn Dress
For more information on Cairn Terriers visit CairnTerrier.org